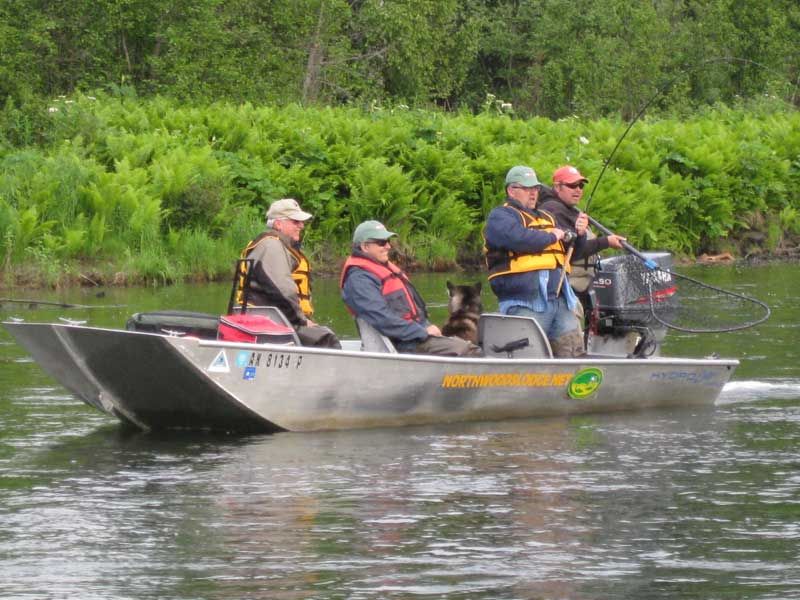 As the temperatures begin to warm up once more and the ice and snow dissipate, Northwoods Lodge is prepping for one of our favorite seasons. While our fishing fanatics are tuning up their gear, the start of a new fishing season is coming into full swing. While our Northwoods Lodge staff is eager to accommodate our fly fishing guests, we are breaking out the fly fishing gear, tuning up our boats, and getting our Alaska fishing lodges ready for visitors.
The Time Of The Year Every Angler Waits For
When late spring and early summer grow ever closer, we get a tad restless as winter has been stuck around for far too long. Lake Creek and its tributaries become our favorite stomping ground once June rolls around. The late spring weather and fast approaching June gets our guides and guests excited to hit the water and cast a line for their prized catches. King Salmon kick off our early season along with many other fish creating unforgettable fishing experiences.
Hook, Line, And Sinker
Our fishing guides are ready to take you out for a fishing excursion you will never forget. Every one of our seasoned guides is getting back into the groove to prepare all of our equipment and get ready to hit the water. Many of our guests here at Northwoods Lodge travel considerable distances just to experience all that our Alaskan home has to offer. This is one of the many reasons we want to go the extra mile to make your visit an epic adventure.
Making New Memories
If you are anything like us here at Northwoods Lodge, and cannot wait to get out on the water for those trophy catches, then give us a call at 907-339-9160 or visit our website. The beginning of a brand new fishing season is the perfect time to take hold of the opportunities that Alaskan fishing lodges like Northwoods Lodge have to offer. The fish are making their way to our waters once again, are you ready for another epic season of Alaskan fishing? Grab your gear and stay with us at Northwoods Lodge for yet another season of Alaskan fly fishing!