Our "Bush" Family Today …
"There are many stories to tell about our experiences living in the bush, but not enough time or room to tell it all. A good reason to come and visit us to hear all of the stories."
Brent went to college in Anchorage for his justice degree with hopes of becoming a Fish and Wildlife Protection Officer.
Tyson, nicknamed "The Fisherboy" by our clients, loves guiding in the summer and has plans of racing snowmachines in the years to come.
Stacy wanted a pet rabbit years ago and then dad decided to raise them. Mom and Dad ended up with that job. She has always wanted a horse, but with the help of mom and dad, due to the impracticality of a horse, her interests turned to starting a sled dog team in 1995 (Hey, it's cheaper than a horse!) We quit raising rabbits and now we're raising dogs.
In 1998, at the age of 15, she entered the Jr. Iditarod Sled Dog Race. There were 21 kids in the race that year with well known Iditarod musher kids like Fiedler, Redington and Seavey. She finished in 14th place. The next two years she had to scratch.
Our lodge, Stacy and the sled dogs were included in a snowmachine video entitled "Born To Ride" in 1999. Stacy is now married with no children yet.
Tyson went on to racing snowmobiles and has done very well over the past 16 years. He has done the Iron Dog 15 times, with 5th, 3rd, many scratches and this year he got his third 2nd place. He also did Snow Cross racing and did extremely well at that until a serious accident while practicing and broke his femur and shattered a wrist.
Brent is now a Fish & Wildlife Protection Officer and lives in Wasila with his wife and 2 kids. He has his pilots license now and also flies for his job. Eric Jr. is 25 years old and still works for the lodge.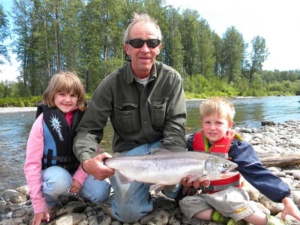 Dear Friends,
There are many stories to tell about our experiences living in the bush, but not enough time or room to tell it all. A good reason to come and visit us to hear all of the stories. We enjoy our lifestyle and our desire is to share it with each of you when you come to our lodge and fish in the summer or to experience our way of life in the winter. When you come to stay with us, expect our home to be your home.
We take pride in our business and are here to make sure your vacation is the best it can be.
See Ya Soon …
Eric & Shan Johnson